x
Thank you for submitting an inquiry. We will get back to you as soon as we can.
Atmosphere Kanifushi
Located in the stunning and sparsely-populated Lhaviyani Atoll, Atmosphere Kanifushi Maldives features luxurious villas set along pristine white beaches and a turquoise lagoon. Offering an all-inclusive five star resort experience, it is just a 35-minute seaplane ride from Male International Airport. Staff are able to converse in Chinese.
With direct beach access, each spacious villa is tastefully-furnished and features open-air bathroom and private outdoor garden areas with sun loungers. Decorated with Maldivian interiors, villa also includes iPod dock, electric kettle, coffee machine and DVD player. Extras include a dental kit and slippers.
At Atmosphere Kanifushi Maldives, guests can enjoy an array of complimentary activities ranging from excursions, sunset fishing, snorkelling and non-motorized water sports. A fully-equipped gym and a flood-lit tennis court is also available.
Union Pay is accepted.
The property boasts 5 dining options and 2 pool bars. The Spice features authentic buffet-style international cuisine and live cooking stations, while Just Veg is the first pure vegetarian restaurant in the Maldives. The Sunset serves a la carte dining and Teppanyaki Grill. Platinum Plus enjoys a fine selection of premium wines and spirits.
Cancellation / Prepayment
14 days to arrival : 50% of package 10 days to arrival : 100% of package No Shows : 100% of package Early Departure : 100% of package
Children and extra beds
All children are welcome. The maximum number of extra beds in a room is 1.
Accepted credit cards
American Express,Visa,Master Card
Before using google maps you must go to Google maps api console and get an api key. After you do, please proceed to Appearance -> Theme options -> Configuration settings and enter your key in the field labeled "Google maps api key"
Maldives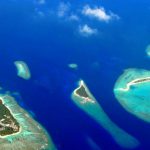 The Maldives is a geological marvel consisting of 1,190 coral islands that form an archipelago of 26 major atolls stretching like a string of pearls across the Indian Ocean. The top of the chain of islands lies to the south west of India. The atolls stretch southwardsfrom there and past the western side of Sri Lanka, ending just over the other side of the equator in the Southern Hemisphere. Each atoll is blessed with incredible biodiversity including an abundance of exotic corals and a rainbow spectrum of marine life.
Discover the sunshine, white sand and crystal-clear waters of a thousand 'Robinson Crusoe' islands with tranquil lagoons of infinite shades of blue; the ultimate combination for the ideal tropical holiday destination. Nonetheless, there is plenty more to the Maldives than just that, visit the Maldives and discover the beauty of the destination for yourself!
Key Facts
Location: Southwest of Sri Lanka, straddling the equator. Latitudes 4 degrees 17 north and longitudes 73 degrees 50 east.
Geography: 1,190 coral islands forming an archipelago of 26 major atolls. Stretches 820 kilometres from north to south and 120 kilometres from east to west. 202 islands are inhabited, 107 are private resort islands.
Climate: Generally warm and humid with year-round sunshine. Average temperature is around 29 – 32 degrees Celsius, rarely colder than 25 degrees Celcius.
What to wear: Dress is generally casual. T-shirts and cotton clothing are most suitable. In Male', the capital island, and other inhabited islands it is recommended that women respect local customs and wear modest clothing.
Population: Approx. 338,434 according to 2014 Census.
Language: Dhivehi is the local language spoken in all parts of the Maldives. English is widely spoken by Maldivians and visitors can easily make themselves understood in the capital city. In the resorts, a variety of languages are spoken by the staff including English, Chinese, German, French, Italian and Japanese.
Economy: The Maldives' economy has been growing at an annual average of 10% for the past two decades. Tourism is the main industry, contributing close to 20% of the GDP. Fisheries and trade follow close behind, with tuna being the biggest export.
Currency: The Maldivian currency is the Rufiyaa although US Dollars can also be used in the capital city. The exchange rate for the US Dollar is fixed at MRf.15.42. There are ATMs at the airport and in Male'. Resorts generally accept most currencies and credit cards. Commonly used credit cards are American Express, Visa, Master Card, Diners Club, JCB and Euro Card.
Education: The functional literacy rate is 98%. Educational standards are among the highest in the region and schools follow the British system of education.
Local Time:  GMT + 5 hours (DST) /GMT + 4 hours (BST)
Business Hours: From Sundays to Thursdays 0800hrs to 1500hrs in the government sector and generally from 0900hrs to 1700hrs in the private sector. Additionally, most offices in the private sector are open for half days on Saturdays. The weekend falls on Fridays and Saturdays.
Communication: Up-to-date technology and international satellite links allow the Maldives to have sophisticated communications systems. IDD facilities are available on all resorts and card phones are available on all inhabited islands. Dhiraagu and Ooredoo; the telecommunications companies in the Maldives, also provide mobile phones for daily rental and WiFi/Dialup internet services. Local SIM cards can be purchased at the airport if required.
Health: No travel vaccinations are required for the Maldives. Visitors may wish to take precautions against mosquitos (which can bite day and night) by wearing insect repellent, although resorts regularly take measures to control them. Snorkellers and divers are recommended not to touch the marine life to avoid accidental bites or stings. Health care facilities are improving almost on a daily basis. The Indhira Gandhi Memorial Hospital (IGMH) in Male' is the biggest hospital in the country. ADK Hospital, also in Male', is the biggest private health care facility. Some resorts have in-house doctors. There are decompression chambers located at resorts in case of diving emergencies.
Culture and history info
Historically, the Maldives was an important crossroad in the Indian Ocean, hence Maldivian culture is a melting pot of various influences gathered from visitors who set foot there over the centuries. Influences of India, Sri Lanka, Arabia, Persia, Indonesia, Malaysia and Africa are evident in the unique culture of the Maldives. Maldivians have assimilated these influences over the years and created their own cultural identity like no other.
A proud history and rich culture evolved from the first settlers in the Maldives, who were seafarers from various parts of the world, traversing the oceans in ancient times. Since people from different parts of the world settled in the Maldives over the centuries, you can still spot some of the traditions they brought with them in Maldivian culture. Some of the traditional drumming and dancing (known as 'boduberu') shows African influences, with rhythmic beating of drums and some songs in a language resembling that of East African countries.
As one would expect, there is a great South Asian influence in some of the music and dancing and particularly in the traditional food of the Maldives. This includes spicy curries using coconut milk and fish as the main staples and 'roshi' (a thin flatbread) as a popular accompaniment. Those who aren't fans of curries will also find a range of world cuisine available including pasta, burgers, noodles and other home comforts. The resorts boast a wide variety of international cuisine, much of which is serious competition for the world's top restaurants. Fresh ingredients are flown in daily or grown on the islands.
However, some of the South Asian customs especially with regard to women such as the Sub Continent's tradition of secluding women from public view are not tenets of life here. In fact, women play a major role in society - not surprising considering the fact many Maldivian men spend the whole day out at sea fishing. Many of the country's traditions are strongly related to the sea and the fact that life is dependent on the sea around us.
Traditional handicrafts include matt-weaving and beautiful lacquer-work, usually painted in black, red and yellow. Although these traditions are less commonplace today, there are still some talented craftsmen and women who make these (matts are weaved exclusively by women). They can be found in souvenir shops at resorts and in Male' and make a wonderful souvenir of your holiday in the Maldives.
---
Read more
We are sorry, there are no reviews yet for this accommodation.
